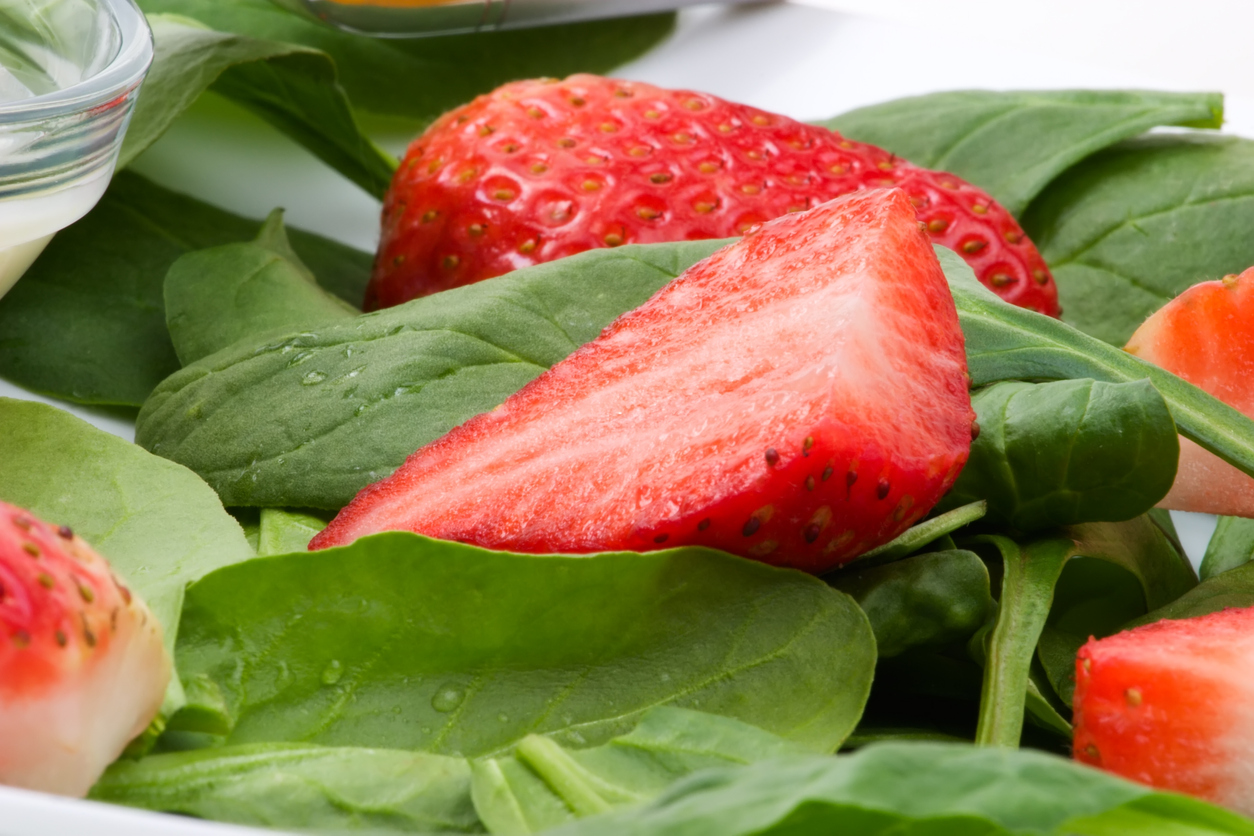 Are you looking to cut back on the heavier meals you may have been eating this winter? This Strawberry Spinach Salad is the perfect light lunch that will do just that. Think sweet and tart strawberries, fresh spinach, and a dressing that is to die for. Of course, if you want to rethink the dressing for something even healthier, there are plenty of options out there, but you may just find that this one is worth the sweetness.
Ingredients For The Dressing
½

 

cup

 

white sugar

½

 

cup

 

olive oil

¼

 

cup

 

distilled white vinegar

2

 

tablespoons

 

sesame seeds

1

 

tablespoon

 

poppy seeds

1

 

tablespoon

 

minced onion

¼

 

teaspoon

 

Worcestershire sauce
Ingredients For The Salad
1

 

quart

 

strawberries – cleaned, hulled and sliced

10

 

ounces

 

fresh spinach – rinsed, dried and torn into bite-size pieces

¼

 

cup

 

almonds, blanched and slivered
Directions
Dressing: Start by whisking your sugar, oil, vinegar, sesame seeds, poppy seeds, onion, paprika, and Worcestershire sauce together in a medium sized bowl. Next, cover the mixture and chill for one hour.
Salad: Combine your strawberries, spinach, and almonds in a large bowl.

Dressing and salad together: After it has been chilling for one hour, pour the homemade dressing you made over your salad and toss it in order to make sure everything is coated. Finally, refrigerate the final product for about ten or fifteen minutes until it is ready to serve.
Reviews
The feedback for this recipe is overwhelmingly positive. Many of those who have reviewed it online have also offered slight modifications to the recipe. Remember, it only serves four people, so if you decide to take it to a party or get-together, be sure you prepare enough for the entire group. After all, it probably will be pretty popular.
You might also like: Keeping Your Car's Carpets Clean
Kids
Have you been trying to get your kids to eat their vegetables? This Strawberry Spinach Salad may be just the thing to encourage them to eat some healthy green spinach.