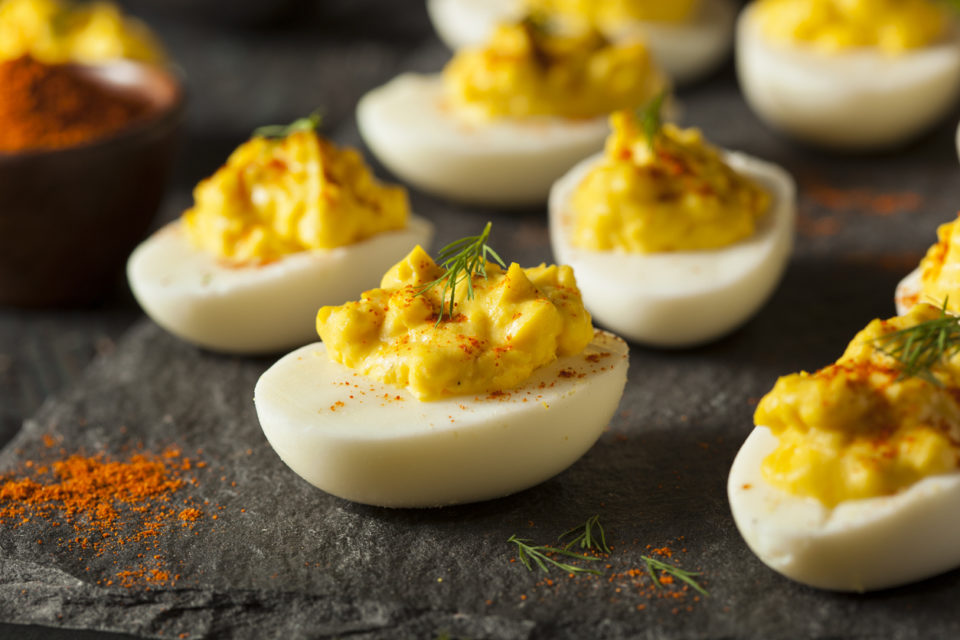 Nothing is quite as satisfying as watching your appetizers and side dishes disappear during Thanksgiving. You know that people will dive into the turkey, so it feels incredible when they devour your other dishes as well. That's sure to happen when you use this deviled eggs recipe. These eggs are such a treat that they'll be long gone before the meal is over.
Ingredients for Deviled Eggs
This recipe is simple, so you won't need many ingredients. Instead, you just need to gather:
6 large eggs
1/4 cup of mayonnaise
1 teaspoon of Dijon mustard
1/8 teaspoon of cayenne
Salt and pepper to taste
Chopped fresh chives and paprika for garnishing
In addition, you'll need to use a Ziplock bag with the tip cut off or a pastry bag with a half-inch star tip. You'll use the Ziplock or pastry bag to pipe the yolk mixture into the egg whites.
Boiling the Eggs
First, you need to boil the eggs. Start by placing them in a heavy saucepan, and then cover them with cold water. Then, partially cover the saucepan, put it on the burner, and bring the water to a rolling boil. Next, cover the saucepan and turn the burner to low. After 30 seconds, take the saucepan off the burner but keep it covered. Let it sit for another 15 minutes before moving the eggs to a bowl of ice water. The eggs need to sit in the water for five minutes.
Making the Deviled Eggs
Next, take the eggs out of the ice water and peel them. They should be easy to peel after sitting in the ice bath for five minutes. Then, cut the eggs lengthwise and remove the yolk in each one. Place the yolks in a bowl and use a fork to mash them together.
Then, add the cayenne, mustard, and mayonnaise and stir it all together. Finally, add some salt and pepper for extra flavor.
Once the yolk mixture is ready, transfer it to your Ziplock or pastry bag. Then, pipe the mixture into the egg whites.
Finish it off by garnishing the eggs. Sprinkle a hearty amount of paprika on top and follow that with some chopped fresh chives.
You might also like: 5 Ways To Help Others This Season
Tip – Taste As You Go
While many people like this recipe as-is, tastes vary from person to person. Thus, taste the mixture before you transfer it to the Ziplock or pastry bag. You might find that it needs more Dijon mustard or cayenne. By tasting as you go, you can slowly add ingredients until you get the flavor you want.
While the recipe is simple, you might need some practice to get the perfect results. For instance, you might find that you need to work on your piping, or your eggs could fall apart when cutting them. Have a practice run before Thanksgiving. Then, you can work out the kinks, and you'll have the perfect eggs for the holidays. Oh, and your family is sure to appreciate your practice run since they'll get to serve as taste testers.
Disclaimer: The stock image is being used for illustrative purposes only, and it is not a direct representation of the business, recipe, or activity listed. Any person depicted in the stock image is a model.