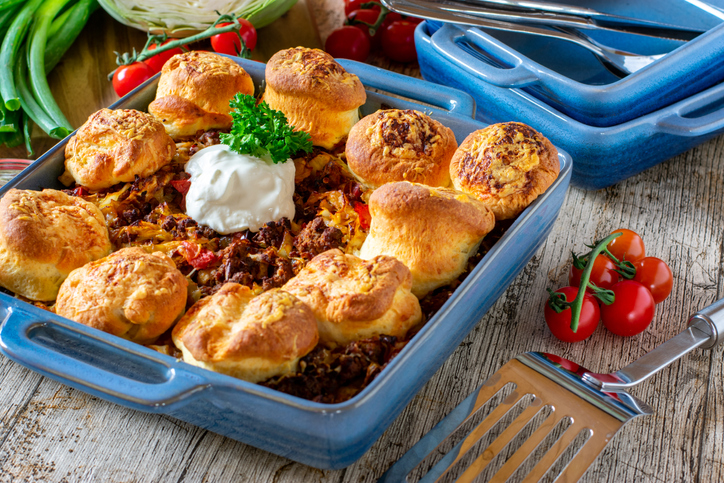 The summer months are perfect for a variety of activities. For example, you might think of taking a vacation or two. However, during the summer, you will likely be with family and friends at barbecues and picnics too. Moreover, you may host or attend a few dinner parties. When you need to contribute to the menu for these occasions, try something new and different. A tomato cobbler will be a crowd-pleaser.
An Overview
Before you get started, it's helpful to know a few preliminary things about this dish. For instance, it serves six people, so you can adjust it accordingly if more people are in your party. Furthermore, it takes a total of two hours to make. This includes the preparation and cook time. Before you start assembling any ingredients, preheat your oven to 350 degrees.
What You'll Need for the Cobbler
Firstly, gather the ingredients for the tomato cobbler. You may already have some of these on hand in your kitchen. Here's what goes into making the tomato filling for the cobbler:
4 tablespoons of extra-virgin olive oil (same some for brushing)
1 medium onion, diced
2 minced garlic cloves
2 large sprigs of fresh basil
1/8 teaspoon of crushed red pepper
3 large tomatoes, cut into 1-inch chunks
Kosher salt
2 cups of mixed cherry or grape tomatoes
3 tablespoons of all-purpose flour
1 cup of mini mozzarella balls
Moreover, you'll also make a biscuit topping. This portion requires some additional ingredients. Here's what to gather for the topping:
¾ cup of yellow cornmeal
¾ cup of all-purpose flour
2 teaspoons of baking powder
1 teaspoon of sugar
Kosher salt and freshly ground pepper
6 tablespoons of cold, unsalted butter (cut them into thin slices)
2/3 cup of buttermilk
1/3 cup of grated Parmesan cheese
2 tablespoons of chopped fresh basil
Making the Filling
Next, heat 3 tablespoons of the olive oil in a skillet. Then, add the onion, cooking for about five minutes. Furthermore, put in the garlic, basil, and crushed red pepper. Stir for two minutes. In addition, you will next put in the chopped tomatoes and 1 ½ teaspoons of salt. Bring this mixture to a simmer and remove from heat. Put in the cherry tomatoes and flour and put the mixture in a 2-quart baking dish. Importantly, place the mozzarella balls on top and put on additional olive oil.
You might also like: Try These Summer Library Activities
Making the Topping
Thirdly, whisk the cornmeal, flour, baking powder, sugar, ½ teaspoon of salt, and the pepper in a medium bowl. Moreover, add the butter into the flour. Make a well in the mixture and then add the buttermilk, Parmesan, and basil. Combine these ingredients with a fork. Lastly, put a tablespoon of dough on the tomato filling. Brush these with a little olive oil. Bake for an hour and serve them warm.
In conclusion, you and your family and friends will love this tomato cobbler. Try it at your next gathering this summer.
Disclaimer: The stock image is being used for illustrative purposes only, and it is not a direct representation of the business, recipe, or activity listed. Any person depicted in the stock image is a model.