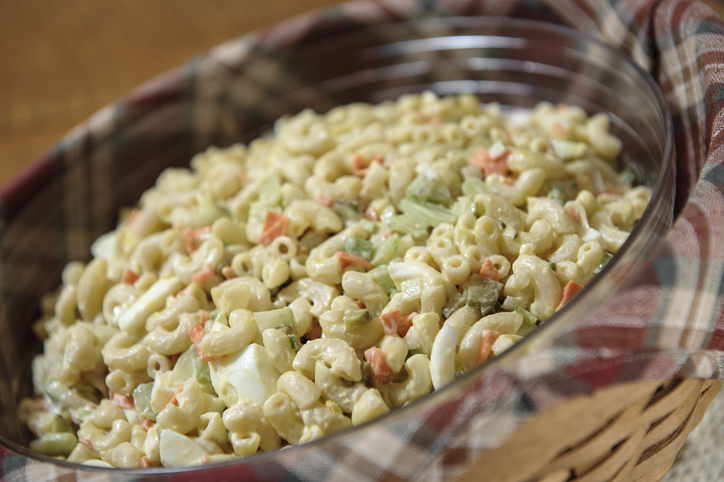 If you asked 20 people to bring macaroni salad to a get-together, each one would show up with a slightly different take on this dish. That's because you can make it in countless ways. Overall, everyone's recipe tastes good. However, try this recipe for Grandma's Macaroni Salad to wow guests at this year's Memorial Day event.
Ingredients
Not only does this recipe for Grandma's Macaroni Salad taste delicious, but it's also easy to make. You can even prepare it the day before if you want. Here are the ingredients you'll need.
8 ounces of elbow macaroni (cooked and drained)
1 cup of celery (finely chopped)
1/2 cup green bell pepper (diced)
1/2 cup onion (diced)
3/4 cup mayonnaise (for this, real mayo tastes better than Cool Whip)
1 tablespoon prepared mustard
2 tablespoons apple cider vinegar
1 teaspoon granulated sugar
1/4 teaspoon ground black pepper
1 teaspoon salt
Directions
As you'll see, it doesn't take a lot of work to make Grandma's Macaroni Salad. However, everyone will think you spent hours making it.
Step One
Put the macaroni, celery, bell pepper, and onion in a large bowl. Set that aside.
Step Two
Add the mustard, mayonnaise, sugar, apple cider vinegar, pepper, and salt in a separate bowl. Whisk the ingredients so they're well-blended.
Step Three
Next, pour the mixed ingredients in with the macaroni and veggies. Again, be sure to mix everything well. After all, you want every noodle covered in the dressing.
Step Four
When finished, cover the bowl or transfer the macaroni salad to a dish with a lid. Then place it in the refrigerator for a minimum of four hours. As mentioned, you can make this dish the night before. Not only will that save you time, but it'll also enhance the flavors.
Making This Dish Foolproof
Before you dive in, consider these tips. While there's nothing wrong with buying generic products, for this, choose quality ingredients. That way, Grandma's Macaroni Salad will come out perfectly.
In addition, don't boil the elbow macaroni for more than nine minutes. Otherwise, it'll end up soggy. The goal is to cook it al dente. That way, it's firm yet tender. Also, make sure you completely drain the macaroni. Any leftover water will make the salad soupy.
Another thing, set the ingredients out until they reach room temperature. That'll allow the ingredients to blend better. However, when it comes time to serve Grandma's Macaroni Salad, it tastes better cold. Now, people will still devour it if it's at room temperature but chilled. It's beyond delicious.
You might also like: Run The Farmville 5K
Additional Ingredients
This macaroni salad is perfect as it is. Even so, you can always add other ingredients to change or enhance its flavor. Below are some suggestions.
Diced cheddar cheese
Chopped hard-boiled egg
Diced ham
Grated carrots
Cherry tomatoes
Crunchy pieces of bacon
Bon Appetit!
Disclaimer: The stock image is being used for illustrative purposes only, and it is not a direct representation of the business, recipe, or activity listed. Any person depicted in the stock image is a model.