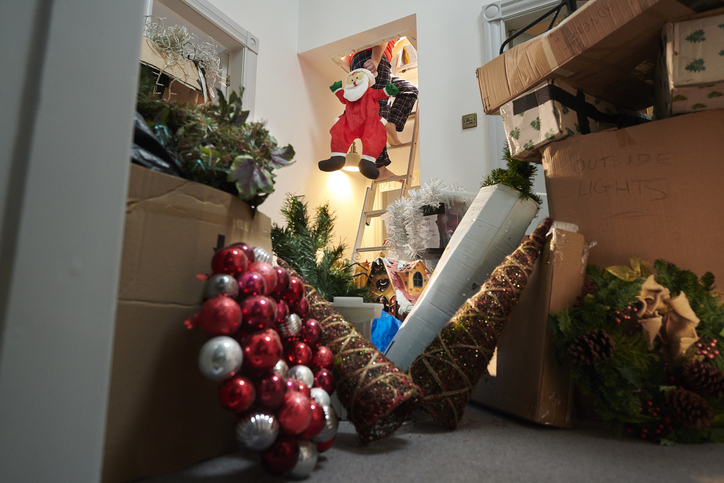 Just like the year before, you'll have a wonderful Christmas with your family. After everyone leaves, the house will feel eerily quiet. Initially, you'll think that you can relax. After all, you've been busy. Then it'll dawn on you that you still have all the Christmas cleanup to deal with. This year, make this part of the holidays easier with these amazing tips.
A Bittersweet Moment
When putting the tree and decorations away, you feel some relief. Now, you can go back to your normal life. However, cleaning up is also bittersweet. After all, you're putting the tree, decorations, and other things in storage that make this holiday magical. Rather than dread the cleanup process, make it a fun experience.
Snap Photos
Instead of hurrying to put everything in tubs, totes, and boxes, spend a few minutes capturing this year's Christmas by taking photos. Perhaps, you watched your children or grandchildren decorate the tree. Maybe a friend gifted you with a beautiful wreath for your front door. By taking pictures, you'll find it easier to hang onto the precious memories.
Don't Hesitate to Ask for Help
Depending on the volume of decorations or even your physical ability, you might need a little help. However, before you reach out to your children, a friend, or even a neighbor, make a list of the things that you can accomplish. That way, cleanup will go smoothly. Even if you have smaller children, you can assign some tasks to them.
Protect Your Ornaments
To store your tree ornaments, choose a sturdy plastic tote. Then, you need a way to protect them, especially the more fragile ones. One option is to use empty egg cartons. Not only are they protected, but you can also stack several cartons inside the tub.
No More Tangled Lights
It seems that no matter what you do, every Christmas you spend an hour untangling the lights before you can put them on the tree. As part of this year's cleanup, try something different. Cut a piece of cardboard so it'll slide easily in a plastic tub. Then, make slits about every two inches on both sides. That way, you can neatly wrap the lights around the cardboard for storage.
Invest in a Wrapping Paper and Ribbon Carrier
You can find these only for about $30. Look for one that features inside pockets and slots. With this, you can put all your wrapping paper rolls inside, and ribbon, scissors, nametags, tape, and more in the pockets. Then, simply zip it up and slide it under a bed.
You might also like: Why Tire Rotations Are Important
Clean the Refrigerator
In addition to cleaning up the house and storing decorations, don't overlook the refrigerator. After all, you probably made all kinds of dishes and goodies. However, there's a good chance that a lot of the food needs to go. You can then stock your fridge with fresh, healthy food for the new year.
Disclaimer: The stock image is being used for illustrative purposes only, and it is not a direct representation of the business, recipe, or activity listed. Any person depicted in the stock image is a model.