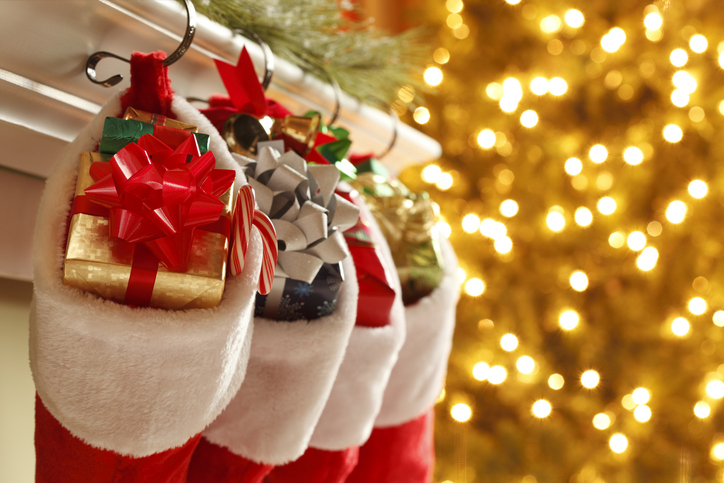 What's Christmas without stockings? It doesn't matter if you have a fireplace in your home or not. After all, if you have children, they get just as excited to peek inside their stockings as they do when they open their presents. This year, do something special by making Christmas stockings.
An Easy Tutorial with Outstanding Results
There are many advantages to making Christmas stockings. For instance, with your creativity, there's no limit as to what you can accomplish. After all, you can choose more traditional colors like red and green or opt for nonconventional holiday colors. In addition, you can make simple stockings or go crazy with embellishments.
No Sewing Required
Not only can you make amazing Christmas stockings but also without any sewing involved. First, you'll need the supplies listed below. Also, this is for two stockings. Because of that, if you plan to make more than two, simply increase the supplies that you purchase accordingly.
1/2 yard of heavy felt
Hot glue gun and glue
Scissors
Marker
Sewing pins
Paper (newspaper, grocery bags, parchment paper, and butcher paper all work fine)
Decorations (examples include ribbon, rickrack, miniature pompons, and tiny bells)
Making a Template
Use a non-bleeding marker to outline the shape of a stocking on the paper. You can either draw it freehanded or download a pattern from the internet. With that done, cut the paper into the shape of a Christmas stocking.
Now, fold the felt in half. Place the paper stocking template on top of the felt, followed by using the pins around the edges to hold it in place. Carefully cut the felt stocking by going around the outside edges of the paper template.
Putting the Felt Pieces Together
Because you folded the felt in half, you'll end up with both the front and back of the stocking. Next, place small dots of glue around the edges to secure the two pieces of felt together. For this, you only need a dab of glue every inch. However, make sure you don't accidentally glue the top portion of the stocking shut.
It doesn't take long for the glue to dry. At that point, turn the felt stocking inside out. That way, no one will see the small dots of glue. Now comes the fun part of decorating the Christmas stockings.
You might also like: What Your Warning Lights Mean
Adding the Decorations
This is the best part of making DYI stockings to hang in your home this Christmas. Using the hot glue gun, begin to add the various embellishments you purchased. Again, you create something simple or fancy.
Here are just a few ideas of what you can do with the decorations:
Glue on a single piece of thick ribbon or rickrack around the stocking roughly three inches from the top. Then, attach pompons on top of the ribbon or rickrack so that they're two to three inches apart.
Glue two thin pieces of ribbon or rickrack around the stocking, again, about three inches from the top. However, instead of cutting off the ends, let them dangle from one side of the stocking. Next, slip just one end of the ribbon or rickrack through a miniature bell before tying it securely using both ends.
Glue coordinating or complementary felt or fabric to the top of the stocking, as well as the toe and heel areas. For instance, if you purchased red felt, you could use green or white felt. However, if you go with plaid material, consider something with red, white, and black colors. At the top, you'll need the felt or material to extend two to three inches down from the top.
Cut out shapes of felt in different colors to make a Santa Clause, snowflakes, reindeer, sleigh, Christmas tree, and so on.
Disclaimer: The stock image is being used for illustrative purposes only, and it is not a direct representation of the business, recipe, or activity listed. Any person depicted in the stock image is a model.