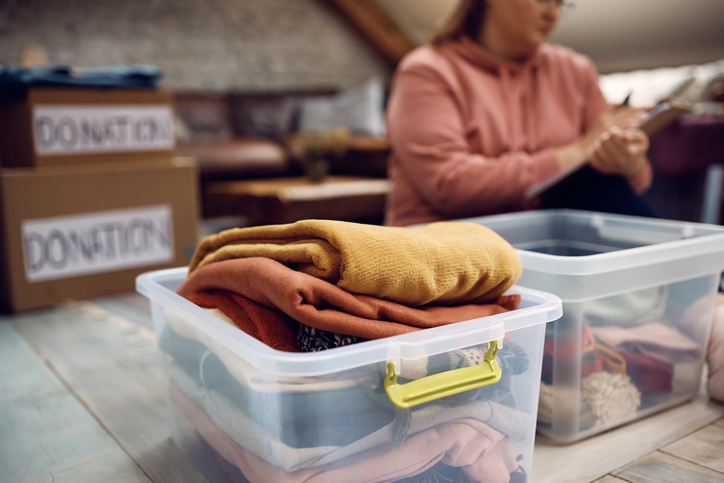 Now that cold weather's here or soon coming your way, you need to bring out your winter clothes. That means putting summer items away. Although you've probably done this many times, here are some great tips to make the process easier. They'll help you organize everything so you can find what you want to wear quickly and effortlessly.
Check the Labels
Before you put winter items in a bin or hang them in your closet, take a few minutes to look at the labels. First, that'll prevent you from bringing anything out that no longer fits. Second, you'll see whether some of the clothes need dry cleaning. You can donate what you can't wear and make a pile of things that need professional cleaning.
Donate or Sell
As you begin to swap out your summer clothes for things you wear in the winter, ask yourself a few questions. Are any pieces out of style? Do they still fit you? Is there any damage such as rips, holes, or stains? Do you even like specific pieces of clothing? Based on your answers, you can donate them to a charity or sell them.
List Items You Need to Replace
As you go through the process just mentioned, write down specific pieces of clothes that you need to replace. For instance, if you have a favorite white sweater but it's stained, don't put it in a drawer or hang it. Instead, add that to your list. Besides, the winter is cold and dark, so what better way to lift your spirits than to go shopping?
Repurpose Clothes
For items that you no longer want, you could also repurpose them. There are multiple ways to do this. As an example, if you quilt, you could use various pieces to make a beautiful pattern. Another option is to make a new outfit using several old ones. So, if you enjoy sewing, this is a great opportunity to use your creativity.
Organizing Your Winter Clothes
As you take winter items out of storage, group them according to the type of clothing, as well as color. As a result, you'll have all your jackets hung together but separated according to their colors. The same goes for long-sleeved tops, sweaters, slacks, skirts, and so on. As you prepare for work, you can quickly choose outfits that go together.
You might also like: What Your Warning Lights Mean
Put Outfits Together
Another option is to create outfits before you hang your winter clothes in the closet. So, you could select a jacket, blouse, and skirt, followed by hanging them together. Men can do the same thing by hanging coordinating shirts and ties with suits. Again, this will eliminate indecisiveness. In addition, it'll reduce the amount of time it takes to get ready.
Disclaimer: The stock image is being used for illustrative purposes only, and it is not a direct representation of the business, recipe, or activity listed. Any person depicted in the stock image is a model.